Today is the 75th anniversary of the Normandy Landings in Northern France on 6th June 1944. Many Irish men took part in various reigments in the landings and many Irish women also participated in the wider preparations before and after D-Day. This blog post covers one amazing woman who helped alter the course of D-Day and five amazing women who contributed to the wider war effort. 
1. Maureen Sweeney.
Maureen Sweeney from Knockanure, County Kerry was only twenty-one when her weather readings taken at a remot weather station in Blacksod, County Mayo unwittingly altered the Allies ot a short window of opportunity to undertake the landings on either the 5th or 6th June. Maureen was unaware of her contribution to D-Day until relatively recently in a recent documentary Maureen stated that she was proud of her weather forecast from Blacksod, County Mayo! Listen here to hear Maureen's son and grand-son talk to Radio Kerry about her experiences!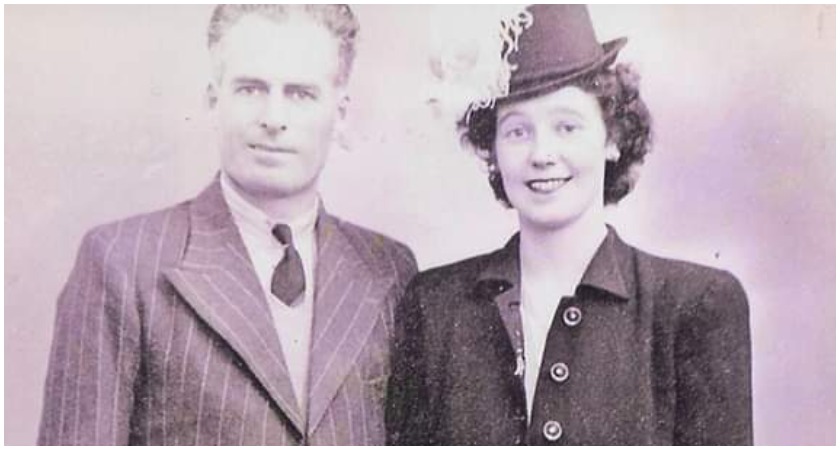 Maureen and husband, Ted Sweeney, c.1940s, The Irish Post.
2. Audrey Greene
Audrey Green, Women's Land Army, c.1939-1945, Irish Farmer's Journal.
The role of Irish women in the Women's Land Army or 'WLA' is unfortunately overlooked for such an agriculturally dependent nation as Ireland. However, there has been some work to record the roles of some Irish women in the WLA. Women such as Audrey Greene from Galway , Elizabeth Halpin from Kildare and Ellis Foy from Belfast who joined the WLA and enjoyed the fresh air, comraderie and differing duties from milking cows to ploughing fields thoroughly enjoyed their time as 'Land Girls.' Their unusual uniform (and one of my favourite war-time uniforms) was a constant source of pride for the Land Girls and consisted of a shirt, jumper, knee-length breeches and spats (to keep the rats out according to Audrey Greene!), brogues, a hat and a heavy coat for winter work.
3. Emma Duffin 
Emma Duffin, commandant of the Voluntary Aid Detachment (VAD) station at Stranmills Military Hospital, remembers helping survivors of the Easter Tuesday Blitz identify pieces or bits of bodies in St. George's market hoping to find their family members. Duffin was a VAD in the First World War and the Easter Tuesday Blitz brought back the horrors of the Somme and other battles to Duffin as she continued to help identify bodies of victims. These first-hand testimonies combat the somewhat nostalgic image of the 'people's war' that are used to describe the Home Front experience on mainland Britain. There was no 'People's War' on the island of Ireland as both parts of the island were ill-prepared for the onslaught of Nazi bombs.
WW2 Diary of Emma Duffin, Public Records Office of Northern Ireland / Northern Ireland War Memorial.
4. Marian Raphael.
Marian Raphael and her husband, Chester Raphael, c.1943. The Irish Times.
QAIMNS (Queen Alexandra's Imperial Military Nursing Service) nurse Marian Raphael who was born in Roscarbery, County Cork. Marian's story of her wartime years as a QAIMNS in North Africa are interesting as her story also articulates that Irish women did participate in World War Two on a global scale as evidenced by previous stories. Marian was typical of her class of women at the start of World War Two; she came from an upper middle-class family, went to boarding school in England and availed of free nursing education before joining the QAIMNS. Marian met her future husband, Chester Martin Raphael in Algiers and they married on 15th, August 1943 before moving to New York in 1944 where their two children were born.
5. Maureen 'Paddy' O'Sullivan.
In subsequent years from the end of World War Two in 1945 it has come to light that fifty Irish men and Women served with the Resistance in World War Two and that Irish men and women were part of Special Operations Executive (known as S.O.E) operations in France or worked at Bletchley Park decoding the Enigma machine. Patricia Maureen O'Sullivan was one brave Irish woman who was parachuted into France to work for the SOE and loved the 'adventure' of it according to an Irish Times article on her life. Patricia was nick named 'Paddy' by her compatriots Paddy was stationed near Limoges and helped send coded messages back to England on Nazi movement in the local area.
'Paddy' O'Sullivan in the uniform of the Special Operations Executive 'SOE', c.1939-1945. The Irish Times.
6. Elizabeth Chamberlain 
Elizabeth Chamberlain joined the Women's Royal Naval Service (WRNS or Wrens) from Ireland and trained in Ireland and Scotland before undertaking cipher work in Naples, Italy. Elizabeth rose through the ranks to become a Third Officer in the Wrens before moving to New Zealand after her wartime service. Elizabeth said that she heard lots of Irish accents in Italy!  (Info for this piece of the blog post from this article and Jennifer Redmond's book Moving Histories: Irish Women's Emigration to Britain From Independence to Republic, Liverpool University Press, 2019). 
Elizabeth Chamberlain in WRNS uniform with future husband, Captain Andy Parsons, c.1939-1945. The Irish Times.
This is just a small snapshot into the wonderful contribution to World War Two that Irish women made between 1939 and 1945. The role of women, including Irish women, is often overlooked when it comes to World War Two and I hope this blog post goes onto re-dress this situation and inspire you to read more about Irish women in all apsects of history!