Otti Berger, photographed by Lucia Moholy, 1927, design-is-fine.org
2019 marks the 100th anniversary of the Bauhaus; the seminal art school that would change how we perceive and interpret art forever. The Bauhaus is seen as one of the most important influences on how art, design, architecture and arts education was perceived, developed and created in the twentieth century and twenty-first century. The Bauhaus embraced both crafts and fine art to make a complete piece of art. However, as pioneering as the Bauhaus was they were not as pioneering in their attitudes towards women students with many being forced into the weaving workshop. Although, one such female student became enthralled with weaving and went onto become one of the twentieth centuries most famous textile artists; Otti Berger.
Otti Berger was born in Zmajevac, Croatia in 1898 to a Jewish family and completed schooling in Vienna before enrolling in the Royal Academy of Arts in Zagreb and later enrolled in the Bauhaus Dessau, Germany in 1926. Otti fully emersed herself in the life of the Bauhaus, as can be seen from this photograph of her at a party in her dormitory room in October, 1930 (Otti is in the back row, far right wearing a head-dress).
Otti Berger and Friends, 1930, Getty.
Otti became one of the pioneering artitst to emerge from the Bauhaus with some of her textile designs utilizing the 'new' medium of plastic as a material to weave with. Otti Berger's textile compositions utilized geometric shapes and patterns to create new and exciting fabrics for upholstery, fashion and commercial use. Otti is one of only a handful of Bauhaus artists to have a patent for her textile designs.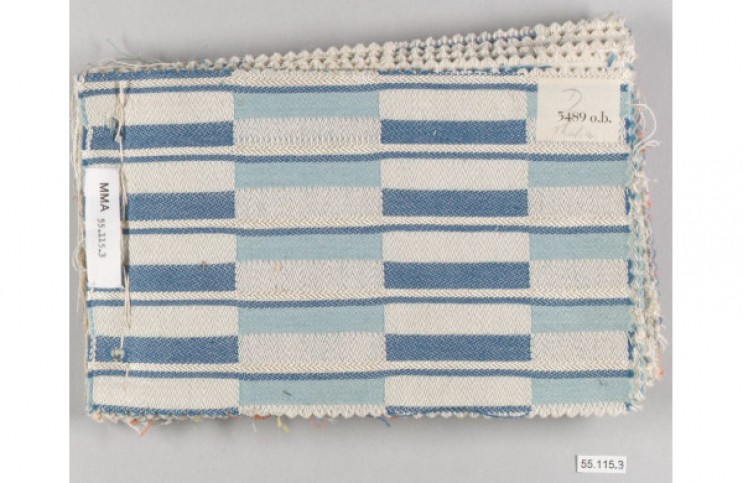 Otti Berger, c.1930s (?), Metropolitan Museum of Art.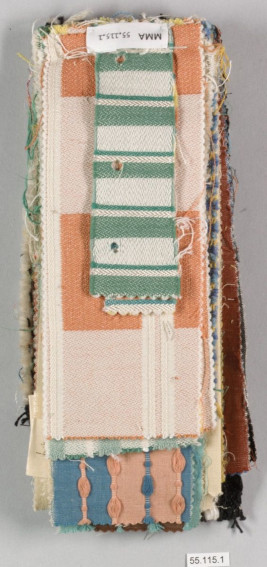 When Otti finished her studies, Mies Van Der Rohe, a German Architect and third and final director of the Bauhas made Otti deputy director of weaving at the Bauhaus before she left to set up her own textile studio in Berlin called 'Atelier For Textile.' Otti's textile studio was incredibly successful and her textiles were produced by several German companies. Unfortunately, due to Otti's Jewish heritage Otti had to give up her business in 1936 and flee to London.
Otti tried to establish herself in London but due to a life-long hearing problem, lack of English and very little support from friends and family this was unsuccessful. Otti was offered a job teaching weaving at the 'New Bauhaus' in Chicago by the famous photographer and painter László Mohloy-Nagy but unfortunately due to the aforementioned problems Otti was unable to secure a Visa and returned to Germany in the late 1930s. 
Otti Berger's former Bauhaus colleagues tried to help her escape Nazi occupied Europe after the outbreak of war in 1939. Unfortunatley, Otti was un-successful in escaping Nazi Europe and both her and her family were deported and executed to Auschiwitz in 1944.
With Otti's death one of the leading lights of the Bauhaus and a pioneer in new and innovative methods of textile weaving and production was lost. It is unclear what would have happened to Otti's career if she did not have to leave Germany and failed to gain a visa to America. Would she be as famous as Anni Albers, the German textile and print artist? Would she have created even more innovative and exciting new ways of weaving textiles and created new materials to weave with? We can only surmise what would have happend to Otti and her career if she had not been murdered by the Germans.
Unfortunately, we will never know but photographs of Otti's, re-collections from her colleagues and friends at the Bauhaus remain as well as remnants of her textile designs survive in textile collections across the world such as the one pictured above from The Metropolitan Museum of Art (Book, mid 1930s. Cotton. 3 3/4 x 9 1/2 in. (9.5 x 24.1 cm). Rogers Fund, by exchange, 1955). It is important that throughout the Bauhaus 100 celebrations we celebrate one of the leading lights of this art movement; someone whose light was switched off far too soon and far too early.
Otti at the Bauhaus, Undated, design.victoriathorne.com