As
As the beginning of the academic year fast approaches students are once again thinking of what to wear to university. To those who are inclined to vintage inspired academic looks then looking back at what past female graduates wore might prove some inspiration for your sartorial choices for this coming academic year. Alas I am not attending a university at a red-brick university strewn with autumnal leaves but can live vicariously through others! One of my favourite clothing websites Miss. Patina even has a new section on their website inspired by Edwardian inspired academic looks! These looking Victorian, not Edwardian, ladies are the 'Nine Graces' the first nine ladies to graduate from any university in Ireland in 1884. If it wasn't because of these women I would not be a 21st century female graduate!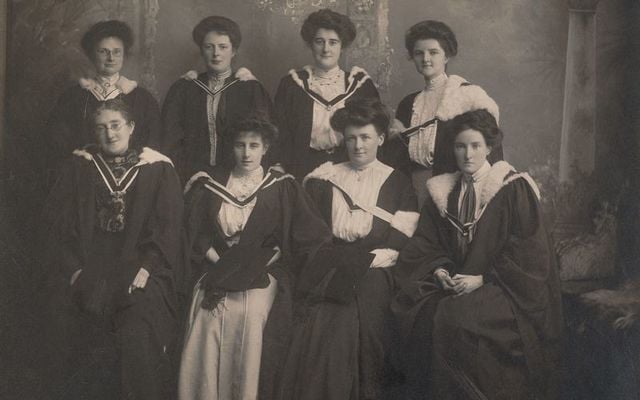 The Nine Graces were; Isabella Mulvany, Alice Oldham, Jessie Twemlow, Marion Kelly, Annie Mary Sands, Eliza Wilkins, Charlotte M. Taylor, Louisa M. McIntosh, and Emily E. Eberle. They graduated from the Royal University of Ireland (now the National University of Ireland) in 1884 and became the first women in both the UK and Ireland to receive degrees (though previous to the 1880s some women had received medical degrees). 
These graduates all appear to be dressed in the fashions of the mid-1880's; bustle skirted dresses, narrow waisted bodices, lace, cameo brooches, and pulled back or piled up hair. Though as we can see in the picture the first Irish graduates appear to be wearing similar clothing; a sort of uniform consisting of pleated skirts, black bodices with button down front, and informal pulled back hair. It is interesting to note that according to The Englishwoman's Review of Social and Industrial Questions, Volume 15, November 15th 1884 the first female graduates opted not to have a special dress made for the ceremony 'as it would be a sort of precedent for others, and they knew that some of the students coming after them were poor and could not afford special dresses.'
As more women went onto further education more university's across the UK and Ireland began admitting women to their courses. Trinity College Dublin admitted women on the same par as men in 1904 and these women above are some of the earliest graduates from Trinity College Dublin. As their pioneering forebearer's before them these women also seem to have adopted an almost uniform style appearance of shirts or blouses, skirts or dresses with the piled up pompadour hairstyle made famous by the 'New Woman' or 'Gibson Girl' of the early 1900s. Unlike their forbearer's there appears to be some attempt at individuality with the graduate on the far right wearing a tie, one wearing a necklace, and some wearing lighter coloured skirts than her other graduates. From both photographs above you can see that it was probably expected of young Irish graduates, especially female ones, to appear smart and professional in lectures and whilst on campus possibly to give the right impression to their lecturers and other university staff.
By the 1920s the dress both for graduation and for everyday wear for female graduates appears to have followed along the more relaxed lines of 1920s dress. These 'flapper' graduates pictured to the left studied science at the University College Dublin and again were perhaps some of the earliest science graduates in Ireland. They are the epitome of 1920s casual glamour with bobbed hair, dropped waist dresses with short skirts, jumper and cardigan suits, silk stockings, and a happy, relaxed attitude compared to the more formal photographs of their forebearers.
But wear did these women get their style inspiration? By the 1920s fashion advice for women in newspaper columns and in women's magazines was increasingly appearing on newspapers stands and stationer's shops at prices even the female student could afford. In these advice columns they could gain advice on wear to find cheap but fashionable clothing, make do and mend tips, and find out what next season's Parisian fashion was going to be. 
The Northern Whig and Belfast Post from 7th February 1926 features in their column entitled 'Of Interest to Women' an interesting section about a million dollar fund offered to women graduates to undertake research week in various fields including science, history, languages, and politics. To the left of this column there is a tasteful illustration of a casual 'sports' dress for walking or golf which would be ideal for a female student walking to and from lectures in mid-1920s Ireland. It features a 'style that lends itself to any material' with attractive button and pleating detail to front. It's fashionable but not fussy and would serve a female graduate well for her winter term at university.
Although this fashion illustration is not aimed at female graduates it's practical nature would appeal to any fashion conscious Irish graduate of the 1920s.  Interestingly when conducing research for this blog post as the years of the 20th century progressed the Irish female graduate became something less of a novelty and something to be supported and applauded as she undertook education which in turn would hopefully provide her with a future job and stable income. However, given the social attitude and retrenchment of women's rights in southern Ireland from the late 1920s onwards what opportunities were open to the Irish female graduate if she had to give up work when she married? Perhaps the graduates of the 1920s and 1930s in Ireland had to look elsewhere for work and a society that would somewhat accept them working after marriage. As is the constant age old problem of Ireland; immigration was the answer and reasonably the flapper graduate of 1920s Ireland found solace and academic elsewhere whilst not wasting her newly found skills and abilities from attending university.
(Unless linked all other material in this blog post is from the British Newspaper Archive).