Rachel With An E? – Anne With An E? Sense a theme here? My blog is in homage to Anne Shirley of the Anne of Green Gables books by Lucy Maud Montgomery. As like Anne I to get frustrated when people mis-spell my name as Rachael when it is Rachel. Also like Anne I'm always reminding people my name is Rachel With An E! The Anne of Green Gables series are some of my all time favourite books. But, I confess until recently I had not read past the first two books Anne of Green Gables (1908) and Anne of Avonlea (1909).
To remedy this most un Anne-ish behaviour I have recently complete reading the third book in the series, Anne of the Island (1915). This book covers the years Anne spent at college in Redmond; which closely resembles Halifax, Nova Scotia. I find it fascinating at a time when in parts of Europe that women were discouraged by society to go to university; Anne and her friends are studying at a co-ed college and are encouraged by friends and family alike to enjoy their college years!
Anne of the Island details Anne's progress through her college years and the journey of becoming a young women in Edwardian era Canada. This journey is told through a series of smaller stories where Anne and her friends have to find suitable accommodation, are nervous as 'freshettes' at college, return visits to Avonlea, cramming for exams, and exploring new places and cementing new friendships along the way. These trials and tribulations of a young eighteen college bound Anne echo the realities of college students today as much as in Anne's time. Students still have to struggle to find somewhere to live and how to meet new friends; Anne lives with landladies for her first year but then finds 'Patty's Place' for the remainder of her college years. Something that is very familiar to students today!
Anne deals with making new friends as it is the easiest thing in the world! She meets the flighty but intelligent Phillipa 'Pip' Gordon amongst a host of other new college friends. Anne and her friends cram for essays and exams, grow up and change as people as their progress through college changes them, and deals with tragedies and triumphs as they progress from young woman of eighteen to young adults of twenty.
Anne's character changes subtly throughout the book as she grows up; as people and places change Anne's character remains steadfast; but remains more open to new experiences than before. Anne's return to Avonlea at Christmas and holidays are even more poignant with descriptions of the beautiful Prince Edward Island scenery and the renewal of old friendships.
Lucy Maud Montgomery's use of language and scenic description is of such vividness and life that you can smell the pine trees, and see the Lake-Of-Shining-Waters! The reader can feel as if they are right there with Anne and her friends enjoying the delights of each season!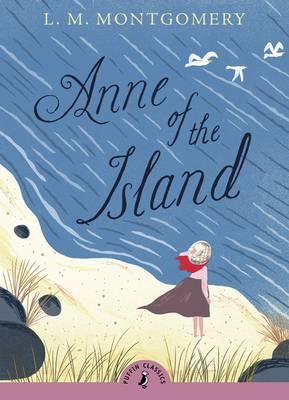 Lucy Maud Montgomery's book also doesn't shy away, nor does more modern editions of the book omit, away from the goodness of being brought up as a Christian or on Christian principles. As a practising Christian, it is refreshing to see some wonderfully kind and encouraging work lines and words about God's character and promise peppered throughout the book by Anne and other characters.
Undoubtedly,  the Anne of Green Gables books are classics, and hopefully shall remain so. Too many might see the books as old fashioned; with their quaint characterisations from a different age. But for people like myself who do not need, nor indeed want. brash story lines, there is something sweet and refreshing and sweet about Anne of the Island. If only we could all live in the golden world of Avonlea; with it's simple, happy life. I think we would be happier and more content! A must read for any reader who loves Little House on the Prairie and Little Women type books; a great pleasure to read and re-read time and time again.