Let's face it February is a dreary, dreich, and somewhat dank month when it comes to weather. Now don't get me wrong I love being outside in nearly all weathers but as I write this the rain is coming down in torrents against the window outside. Not ideal walking weather. So what to do? Stay inside with a good book and a lovely cup of tea. Read on for the Beyond the Bookcase recommendations for February.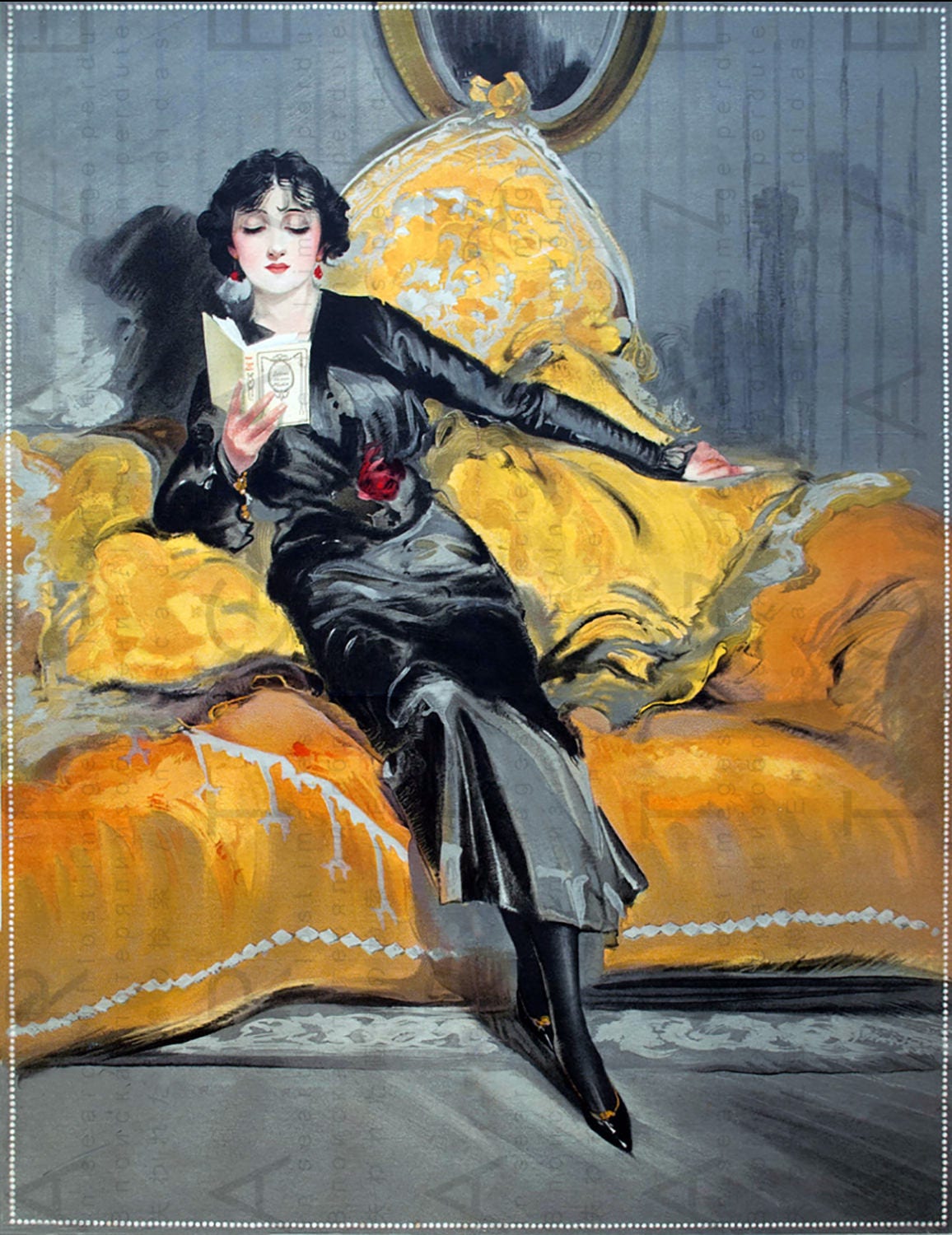 I like to think this is me when reading; a glamorous flapper whiling away her leisure hours before dancing the Charleston at a speak easy.
The reality is that I am often exhausted from work whilst reading, in my walking gear from being out in aforesaid weather or in just plain slacks and a shirt not a delightful 1920s black silk dress.
Who knows what this young lady is reading? Lady Chatterley's Lover or James Joyce's Ulysses? (February 2021 being the 100th anniversary of Ulysses' publication).
Whatever she is reading she will undoubtedly need some reading suggestions from yours truly for the remainder of the month. So without further ado let's get stuck in!
1. Mrs. Tim of the Regiment, Dorothy Emily Stevenson (Scottish author 1892-1973), 1932. Re-published by the Bloomsbury Group in 2009.
What can I say about this book other than being utterly brilliant and a fantastic read? This is the first in a series of four Mrs. Tim Christie books that tell the fictional tale of Helen Christie, her husband, an officer in an un-named British army regiment stationed in southern England, their two children Bryan and Betty and the domestic trials of being an army wife. This book is somewhat biographical as the books are based on Stevenson's actual real life role of an army wife. This book centres on the Christie's life in the small village and interactions with fellow army and civilian family's most notably Helen's good friend and newly married Grace. The book takes the form of a diary for the first half of the book when the Christie's have to move to Scotland as Tim gets a promotion and the tribulations of trying to fit into a community where the Christie's may not be able to understand the local Scottish dialect!
The next half of the book which deals with Helen and Betty's holiday in the Scottish Highlands with their Scottish neighbour Mrs. Loudon and her relatives is more of a reflective journey for Helen as she comes to terms with falling in love with Scotland and her immediate departure for yet another locale. The characterization in the book is well thought out and reflects the social standings of the various characters in the 1930s; Helen is happy with domesticity and does not regard herself as a judgmental but cannot stand the nouveau riche Mrs.McTurk and her Rolls Royce. The characters and settings in this book are reflective of 1930s society as a whole which is reflected in the very traditional gender roles present throughout the book and some out of date political sentiments. However, if like me you are fond of fictional portrayals of 1930s domesticity I would highly recommend this book and I for one cannot wait to get my hands on the next book in the series!
2. The Pimlico Murder, a Blitz Detective novel, Mike Hollow, 2021.
As you can probably tell my reading tends to books either published or set in the early to mid-twentieth century. Given that this is my favourite period in history (and also the one I work on as a Dress Historian) it's not too surprising! I sometimes foray into modern literature but tend to stick with the safe guard of things written or set in the pre-1970 world. The Pimlico Murder is the sixth in the Blitz Detective series by Mike Hollow which follows police detective John Jago across London and various murder scenes in Blitzed-out London.
This book is set in Pimlico which is situated in west London just beyond the confines of Kensington and Westminster. A young keen cyclist Peter Watson is found murdered in his Anderson shelter in the back yard of his rented accommodation with his murderer being hinted at as coming from the seedy underbelly of criminal Pimlico. This story does follow the traditional tropes of main detective and sidekick in the form of Peter Craddock and the love interest of the main character and the dilemmas that go with it. However, this is a refreshing take on this trope as John Jago is a man with hidden depths and hints at his past prior to the murder taken place are peppered throughout the book. There are also a good number of stereotypical characters in the form of the friendly corner shop owner, British Union of Fascists bully and femme fatale but again they don't fall into the stereotypes. The femme fatale can argue her way around politics and the friendly shopkeeper has hidden depths. Overall, I'd highly recommend this book for a lover of Golden Age crime and World War Two history.
3. Jane Eyre, Charlotte Bronte, 1847. Various editions available.
Ignoring the rather dark illustrations on this 1943 edition of Jane Eyre by Fritz Eichenberg.
Jane Eyre by Charlotte Bronte (originally published under Charlotte's pseudonym of Currer Bell) tells tells the tale of orphan Jane Eyre's early childhood, time at boarding school, and consequent life as a governess working for Mr. Rochester.
I won't go into too much detail encase you are not familiar with the storyline but suffice to say that this book (along with Sense and Sensibility by Jane Austen) is my joint favourite book of all time. Ever. Ever. Ever. No matter how many times I read it I still love it. Especially Jane's transformation from a shy child to a confident young women who knows her own mind. Additionally, the brooding scenery and setting of Jane Eyre add to the gothic mystique of this book and sense of foreboding as the story unfolds.
Undoubtedly, the Bronte's own upbringing on the Yorkshire moors village of Haworth with it's sweeping vistas and hills influenced the dramatic landscapes within Jane Eyre. The vivid descriptions of how the locales influence Jane's mood and represent her changing character and circumstances are reflected in the descriptive imagery and wording of the desolate moors. As someone who has lived in Yorkshire the moors have a haunting, romantic quality which is reflected in Jane Eyre and the characters contained within the book. If you've not read Jane Eyre please pick up a copy from your local library- I promise you will love it as much as I do.